Four years ago this past Saturday we met. It was NOT love at first sight. It was not trust at first sight. It was not perfect.
But through the imperfect, the learning to love, the learning to trust, has come some of the best adventures and experiences. My allowing my heart to open up (and Jasper's too), we have found a whole new life together. One that we could never have imagined.
My heart, freshly broken from the loss of my beloved soulmate, Shelby Lynne, I took a chance on a black and tan dog I saw on Petfinder. She had been rescued from the streets of Mexico where she lived in a hoarding house with God only knows how many other dogs. She was submissive, scared, tentative, and at the time, full of "good choices". As she has come into her independence, her confidence has blossomed and she is now the queen of "bad choices" but good times.
Jasper's personality shines through each and every day … in ways that are so completely different than Shelby.  For example, Jasper loves to play fetch. She has more balls than we know what to do with (and most of them end up under the couch and I have to drag the couch to get them all out). She could toss that ball for hours and never tire. Yet when we go to the dog park , she wants me to throw it so she can catch it and then drops it at her feet. So basically, I walked to her, grab the ball, walk backwards, toss the ball, she jumps to catch and then drops. Rinse and repeat!
She is a hunter – squirrel, cat, mole (yes … she had one in her mouth a few weeks back). Her prey instinct is so much stronger than Shelby's was. Not that Shelby didn't love to hunt, she just wasn't as focused as Jasper.
She has her routine … she goes to bed each night around 8 pm. I wish she would hang on the couch with me but she really prefers to put herself in one of her beds in my bedroom. Until I go to bed then she comes around and waits for me to put her IN the bed with me. Where she burrows herself in the pillows.
Each morning, as I place her on the floor, she does her 'stretches' while I start the coffee and get her leash. She always likes to raise her big booty up in the air ala downward dog and get a booty scratch. And speaking of booty scratches, after she eats her dinner, she loves to rub her face all over the rugs while I rub her booty. She demands it even.
She still does her low-growl (which honestly, I do love) … and her loud bark (do not love). She loves, loves, LOVES the neighbor and the UPS driver. She barks and barks till I take her outside to see them and then vocalizes her joy so loudly you would think she was being attacked. Pure screams of joy! (BTW – Shelby loved both these men too… they must have good juju).
And her bad choices … well, I know deep down she tries to be good and she always does feel remorse (unlike Shelby Lynne who was always SO proud of her destruction). Jasper loves to shred, paper, bills, toilet paper… I'm just thankful it's not my shoes!
Four years ago…. I drove 2 hours to Orange County, CA to take a BIG risk on a little dog. It was one of the hardest things and one of the greatest things in my life. I look at Jasper Lily every day and tell her that I love her SO very, very much. We also thank Shelby Lynne each day for bringing us together. Life is about living each moment and I am grateful for the sidekick and my heart's willingness to open back up. It wasn't easy but the best things in life rarely are.
PROUD! In a word – that is how I feel about Jasper Lily after our epic adventure to the east coast.
For those that don't know, we live in Los Angeles. We flew on a Friday to Washington DC which is about a 4 1/2 hour flight. Jasper rides either in her carrier under the seat in front of us or on my lap since she is a little dog. She is a frequent flyer but normally we fly to Seattle and back so much shorter trips. She did great. We got to DC, picked up our new friends, Tina and Clare, and walked what felt like MILES to the rental car place. Jasper took it all in stride. Like this was perfectly normal to her. And in the car we went. Jasper isn't a huge fan of cars. She prefers to sit at the floor and shoot me dirty looks so three hours in the car was probably not her idea of a vacation – despite her new friends there with her. To a new house. With new smells and more new people. And then three new LARGE dogs that were already part of their own pack. There was some slight trepidation on Jasper's part but that could also be exhaustion and being overwhelmed. She's an 18 pound dog and was surrounded by dogs that were 80, 60, 50 pounds!
We checked into our house and Jasper was curious as ever and found her nose (we think) on the receiving end of a mouse trap. The dog scream is the worst! I thought she had gotten stuck behind something and just freaking out which is probably the reason I handled it better than seeing her with a mouse trap on her nose or paw. She shook it off and we removed ALL the other traps. And no more curious wandering in the house. After that, I will admit, I was slightly nervous about the dangers that would/could happen this weekend and wondering if this was a good idea to have brought her.
Bedtime with her mama and a new friend and all was right in everyone's world!
The first day in the country presented so many new scents and sights. Jasper has never (to my knowledge and certainly not with me) been around horses. The horses were pretty dog friendly and the first day Jasper was slightly apprehensive and by the second day, she was brave.  Her nose was going crazy smelling all the new smells and seeing horses,  ducks and geese.
Back to the other house with the other pack of dogs and food smells! Jasper took it all in stride. And the other pack welcomed her like one of their own. It was like they were all a family. And with that, this mama started to relax but I knew there would be many more new experiences for Jasper ahead as the day went on.
To the park with new people, new dogs, new smells (and mama worrying about ticks). Jasper was FINE. Jasper was PERFECT. Jasper did GREAT! I was able to have others hold her leash while I was off. Jasper – who is usually more angsty around other dogs when she is on her leash – didn't have a care in the world. She had her carrier there which proved handy when the thunderstorm kicked in but for the most part, she was so BRAVE.
The rest of the weekend was more of the same…
And going back to the city (I do believe Jasper prefers country life as it is less loud) and then going sight-seeing in DC… I am struck by how great she was. And how it seemed perfectly normal to her – always. And the flight home; yeah, she slept on my lap the entire way, barely looking up when I had a sandwich.
And today marks three years since I first met "Julia" aka "Coyoyita" to be known as "Jasper Lily". She has changed and so have I. Baggage unpacked, walls down, hearts open. Perhaps this is the dog she was meant to be and she is now living her best life. She still has her quirks, her fears, and a strong prey drive that will probably never allow her to be off leash outdoors. But she is happy and she is confident. She loves her mama. She really, really does. I rarely see our connection and our bond but I did this past trip. I saw what people have told me for over a year that she is bonded to me.
So yeah … I am PROUD. Proud of little Jasper Lily and proud of me. As they say … "you've come a long way kid"… we both have!
Cheers to many more experiences and adventures!
First off – for anyone reading this who doesn't want to read the entire post, know that Jasper is alive and well and safe and sound and healthy.
BUT our "OMG what is happening here" started last Wednesday evening into early Thursday. It was a normal day. Or maybe not. Jasper vomited on Monday. She hadn't done that in a long while so I didn't think much of it. She was fine at daycare Tuesday. Wednesday evening I got home from work and she pooped in the house while I was changing. She has NEVER pooped in the house. Never once. I was annoyed but then we went for our walk and I saw she was not feeling the greatest. She always nips grass so I can't tell if that is a stomach thing or a Jasper thing. Her poo was slightly off and really stinky! We had dinner… all was fine but she was rather mellow (again, odd for Jasper).
Thursday – 4 a.m. – I feel her walking around the bed. I beg her to settle and let me sleep 30 more minutes. She isn't having it. Up we go and outside. She has the loudest gas / fart I have ever heard from a dog (I am sure that scared off the coyotes). It also scared Jasper so she would no longer poop but I could tell she needed to and again, not normal poop. I give her breakfast, go for a run, we go for another walk and she poops (again). Now this is really not feeling normal for us.
I'm about to leave for work and she dashes to the bathroom and refuses to leave. What is about my bathroom and that purple bath mat that is so appealing to dogs that don't feel well. When Shelby was recovering from her amputation, that was her spot. It's a tiny bathroom too.
Off to the vet for Jasper. And then I start to freak out. I go to the dark side. What if she ate something that was toxic? What if she is really sick? What if, what if, what if??? I did my very best to stay off Dr. Google. But I was slowly losing my mind. Thanks to Michelle who talked me off the ledge and calmed me down. And thanks to Holly who gave me some breathing exercises. And to everyone else who responded to my post on the forums and indulged me even though Jasper is not a tripawd.
The lab results showed nothing. I went to pick her up and we still needed a stool sample so I made her walk and walk with her to get her to poop. She has diarrhea – not really sure why she felt the need to hold that in ALL day. And home we go with some meds, a dog with a leaky booty and a super exhausted mom who had spent over 3 hours in her car that day.
Home – and the whining begins.  The parallels between Jasper and Shelby's illnesses was eerie. When Shelby first came home as a tripawd, she would pace and whine. Jasper just lay on the floor moaning, groaning and whining. It sucks when you can't comfort them. It sucks even worse when they won't even let you touch their tail or booty to wipe off the moisture.
Friday morning still acting slightly off but better. I have no choice but to leave her so off to work I went. I left work exactly on time and one hour later, I was home and greeted at the door with a happy, eyes sparkling, tail wagging Jasper Lily! She was feeling MUCH better. The vet had called me earlier with the news that there was nothing unusual to report in her stool sample. A big ole (expensive) case of "we'll never know". She probably ate something on our walks or licked something she shouldn't have or gotten into something at the dog park. But she was on the mend and that was all that mattered.
We survived! It was probably harder on me as I had flashbacks to Shelby being at the vet for one thing and then learning she had cancer! Obviously my mind was racing all over the place. I hadn't shared this with anyone but I was signed up to run a 5K race on Saturday. Now a 5K race isn't a huge distance that requires a lot of training but I had been training to "race" it (as in go as fast as I could and break some records for me). For those that know my story, I was a distance runner before Shelby got sick. I lost my running mojo while dealing with Shelby's illness and then after she passed, I was only running for health and fitness – not for races or time. Slowly, I have come back to wanting to really train again.
So of course, in my mind I was thinking – why this week?!? Why is the universe testing me? Should I not run Saturday? But my coach knew I was running. He had trained me to do well in this race. I knew I couldn't back out because I would feel tremendous personal disappointment and risk disappointing him with a "BS excuse". Bottom line – Jasper was home. If she was home, she was safe and there was absolutely no excuse NOT to run this race. (Not even the cold that was coming on).
So I drugged myself up on cold meds, got a good night's rest, made Jasper sleep on the floor in case she wanted to pace or poop or do anything that would disturb my rest if she was in my bed. I got up, walked my dog, got myself ready and put myself in the right mindset for what I was about to do. I showed up for the race. I focused on me. My race. My time. My goals. And I smashed them all. I ran the 5K (3.1 miles) in 21:38 (a little less than 7 min miles). I came in 1st in my age division. I came in 4th overall female. And I felt great.
And then I got home and my dog was smiling, resting on the couching, ready for her walk (we always walk after my runs so she recognized the outfit). And we played the day away … fetch, fetch, fetch.
I learned a valuable lesson about me; the growth I have made in the past almost 3 years since Shelby has been gone, the ability to ask for help and support from friends to take some of the burden off me, the mind over matter is a powerful thing and sheer ambition.
Sadly, I did get the cold that was going around … probably due to stress, the race, and psycho LA weather. But thankfully, I had a good snuggle pup to nurse me back on the weekend. And today … she is happy, healthy and fine. So we survived the vet scare of 2017 AND used up our health insurance deductible for the year but hope we don't have to have anymore medical expenses!
Oh wow … the sidekick turns four today!!!! I do not love these birthdays as much as I loved them with Shelby because I see them as "slowing down" (which she is not)  or "aging" (which who loves that … certainly not me with the little lines all over). And Jasper probably will show more age than Shelby ever did since she is a black dog. Shelby as a blond never really showed any grey (like her mama) but I am sure as the years come, Jasper's muzzle will get grey and she will start to look older.
Even when I look back on photos of her from when she first arrived to now, she seems to have grown into those ears and filled out. She still has her little curves around her waist but she definitely is bigger than when I first met her. She is 100% healthy (except for her monthly visits to the vet for her booty expressions). She eats like a champ; grain-free, veggies, fruits, moderate snacking. She works out in her own ways – preferring to fetch the ball in our tiny apt for hours vs a couple mile booty buster walk. I am not a fan of the turning around 10 minutes into our walk and pretending she is tired only to get home and have her find her energy with the tennis ball – non-stop!
She is such a good little traveler except she still hates, hates, hates the car. Even if it is to just go to daycare. I suspect she might have slight motion sickness but she sits on the floor, behind the seat where she can see me and glares. Fun times!
She adapts – easily – to wherever she goes. We arrived in Seattle and she just acted like she had never left. Greenlake park? Same old stuff. Her fear factor is greatly reduced on many levels except the obvious triggers (fireworks, booms, loud noises). We still have the "low-growl" (which I admit I do love) and the low-bark (which I do not love).
She never seems sad when I leave and is always happy to see me come home. She cuddles now … more and more. She smiles more. She wags her tail more. And her 'scared ears'… less and less.
She is a good dog. She is a kind and loving dog. She is a gem, like her name. And like her big angel sister … who picked the best sidekick for me but definitely made us BOTH work for it, lives in the moment and loves without condition. Loving again didn't come easy (for Jasper or me) but I would safely say – we are head over heels in love today. I still miss the heck out of my heart dog every day. I talk to her (a lot). I thank her (a lot). I smile when I think about our time together. I am sad when I think of how our journey ended. But I am filled with gratitude for what losing her brought out in me – more patience, more value for living in the moment and more room in my heart for a new fur-baby. I still have many moments of intense anxiety thinking about what the world will look like without Jasper or worry that she will break a leg or get sick. I try and keep her wrapped up in as much of a bubble as possible but I know there is nothing I did or didn't do for Shelby to create the last chapter in our earthly story.
And on our walk this morning – rushing as I was late for work – I saw a shiny penny. Right in the middle of the sidewalk. So thank you Spirit Shelby for the signs that you continue to send.
And Jasper … Happy Birthday my little girl… your madre loves you very much and is looking forward to another fun journey around the sun with you!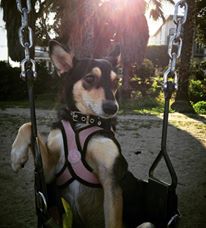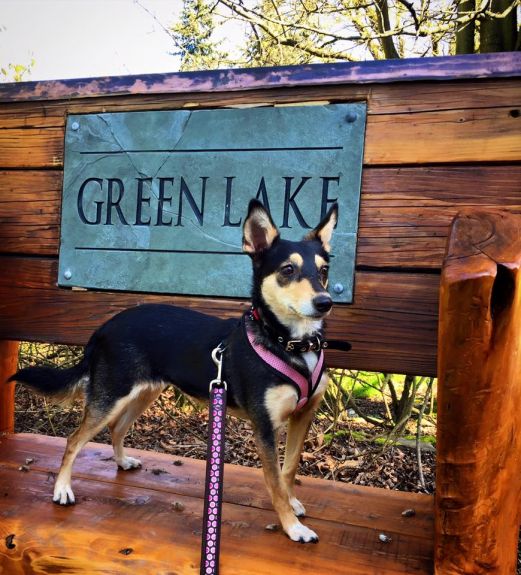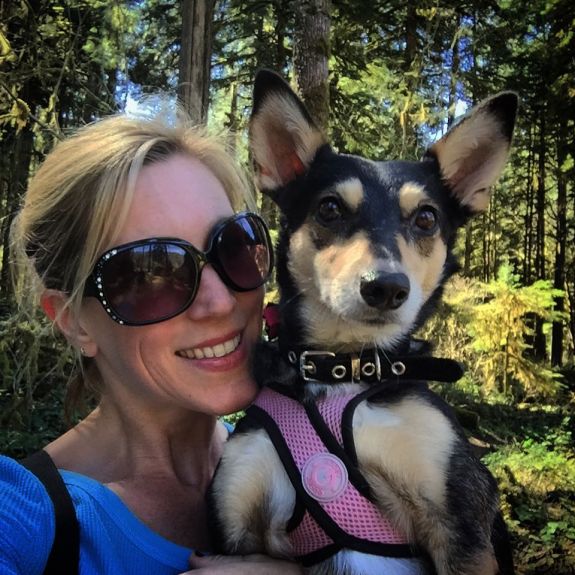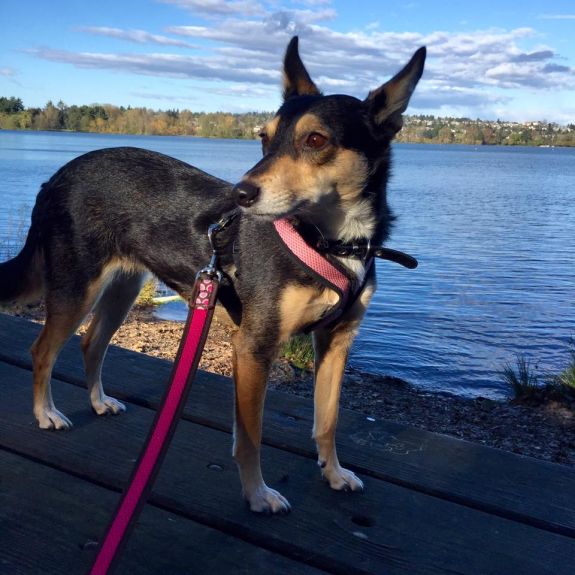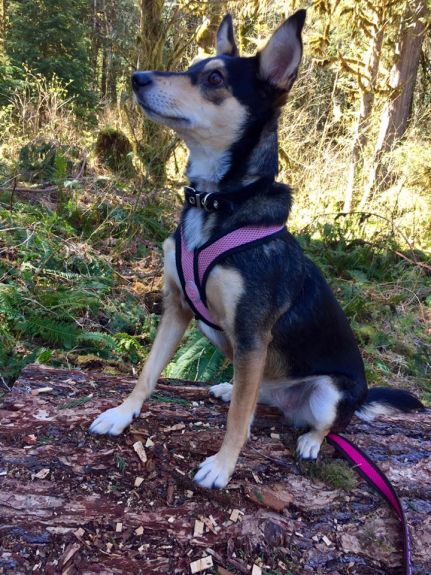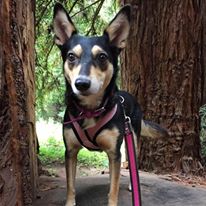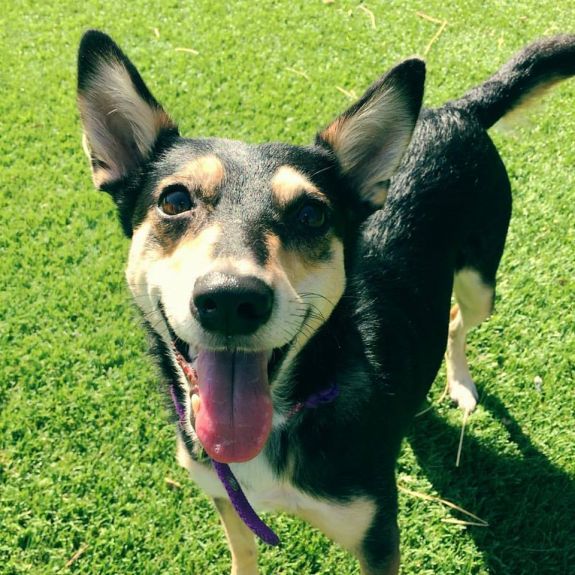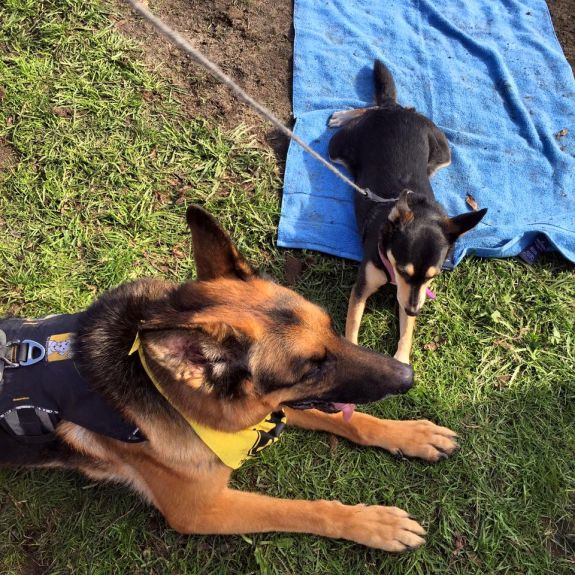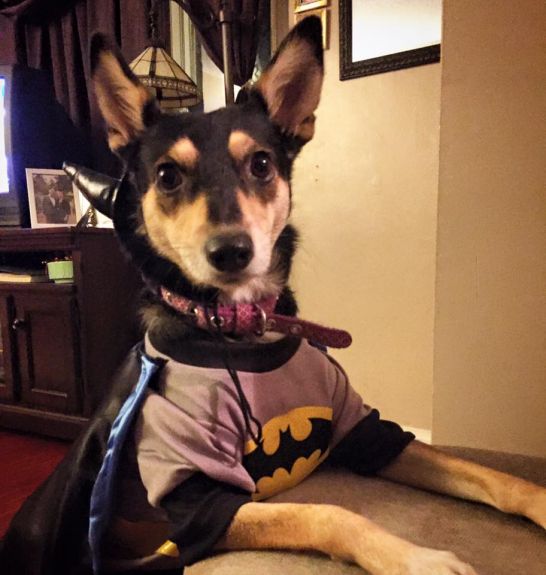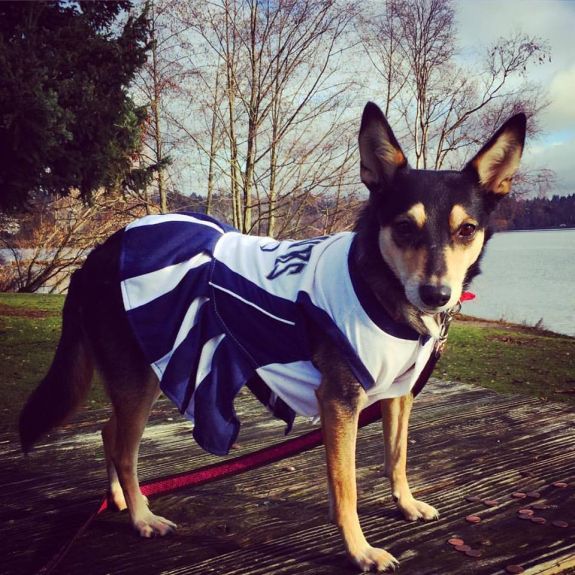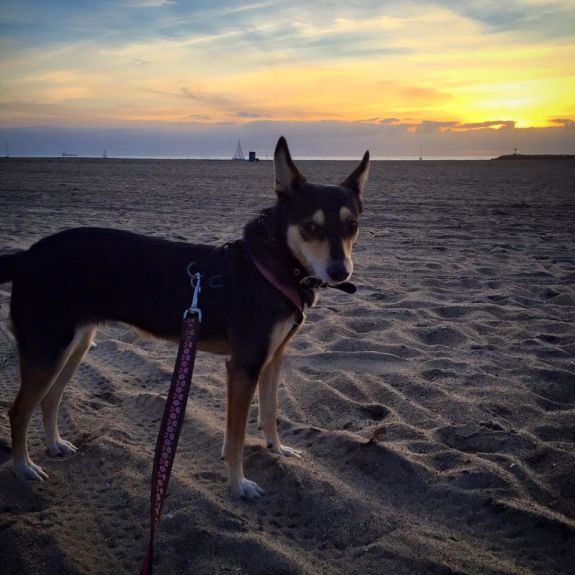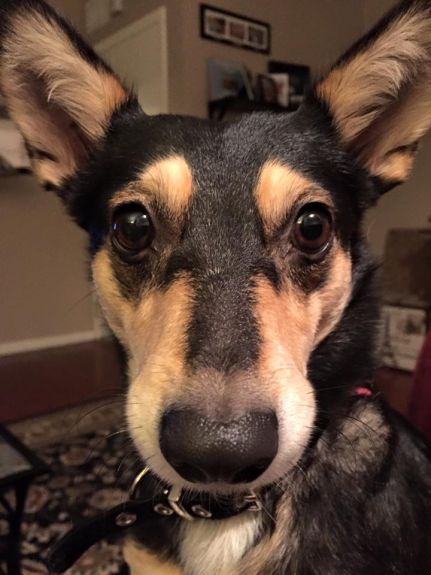 Those dawgs know how to party!!! What an amazing weekend … re-connecting with old friends, meeting some new ones and celebrating life, love and joy! We had the BEST time, as we always do. Jasper (well mostly me) loves to get out of the city. I love to escape LA for greener (literally) pastures, cleaner air, nicer people and silence. The meeting with the tripawds group is icing on the cake for sure!
Jasper and I usually make the drive up on Friday and it takes us about 5 – 5 1/2 hours (and it's an ugly drive – straight through farm country). But once we hit our destination, greenery, clean air, blue skies! Perfect! It was actually warm when we arrived which was surprising since I thought we were going to escape the heat.
We did a quick search of a park and did a few miles there. The first thing I noticed was the smells; literally, clean air and trees smells good and different. LA smells like smog – 90% of the time. I rarely am able to take a deep breath of air here without feeling like I am going to cough.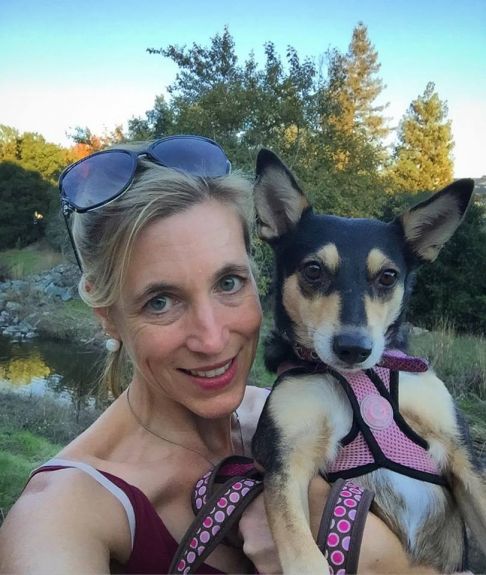 Saturday, Jasper and I get up bright and early to hit the road to meet our friends. We like to arrive a little early to get out some of Jasper's energy. And after our brief little walk, we headed to the party and like usual, we saw Shelby and her pack! And their new puppy, Dusty. OMG … those ears!!!
Then the rest of the crew showed up and it was like no time had passed since last spring. We laughed, we shared stories, Diane gave cookies to the lucky dogs (Jasper over-indulged this time for sure), and we finally got a group shot!
I would say this is the largest gathering I've seen since we've been driving up – it was great to meet Grace and Chance, two new friends to our family. Their owners were pretty special too! 🙂
All in all … a great day with great friends and great dogs!
Then Jasper and I took a detour across the Golden Gate Bridge for a few photo opps before heading back to our hotel.
Sunday was overcast, misty and a bit damp but that didn't stop us (me) from making a trip to a Redwoods Forest before the long drive back to LA. The Redwoods calm me; soothe and nurture the soul. I firmly believe the trees have healing powers. Jasper – tuckered out from the day before – refused to walk about 15 min into the hike (and by hike, I mean easy stroll on a flat trail) so I carried her since I wasn't ready to leave the forest. Don't you know, the second we turned around to go back, she basically sprinted back to the car. Still not ready to leave, I grabbed a notebook and spent some time with my thoughts in the forest.
And then the long soul-crushing (the 5 freeway is super ugly) back to LA. A quick stop for a puppy latte and it was homeward bound. Jasper promptly ate dinner and crashed for the night. She doesn't sleep in the car which I think is part of the problem why by day 3 she is so exhausted. I suspect she will sleep most of today as well.
It's been a while since I have updated her blog. So much has happened. We had our annual summer vacation – this year we stayed in California and explored Santa Cruz and Santa Rosa. Lots of time in the redwoods… it is truly heaven on earth. And since Jasper is still not the biggest fan of the ocean, the forest is perfect for us. It is QUIET, fresh air, beautiful majestic trees, many that are several hundred years old. And did I say quiet? Very zen.
We traveled then a bit more north to help celebrate my great aunt's 100th birthday. Jasper in a nursing home with wheelchairs and walkers?!? It was a recipe for disaster (she hates anything on wheels) but she did great. She wasn't really allowed but we put her service dog vest on her and kept her in her carrier. Couple barkies but mostly well-behaved.
The sunsets in LA weren't as epic this summer but we still managed our evening booty buster walks and sunset strolls. However, I will say, Jasper has figured me out. She now refuses to go further than one mile on her walks and not because she can't do it but rather she would like to come home and play.  I would rather tire her out in nature!
And we started and completed two levels of dog obedience. I have always known Jasper is a smart little dog. She responds well to basic cues so I hoped obedience would help her learn new things, further bond with me and allow us to start dog agility. Something I always wanted to do with Shelby but knew Shelby would never go for since she hated crates, tunnels and anything that appeared to be confining.  Jasper did GREAT in the first class. She learned to sit, (better and on command, she knew that already). She learned stay – come – wait and "watch me". Come is still a work in progress since she prefers to "come" on her own terms. The dogs in the class with us were a bit younger but pretty calm so it all worked great.
Level two was a different story. A lab (with lots of energy despite being 7) and a pitbull pup. Jasper was out of her element and not a fan. As the "older girl" in the group, she hated these dogs. She growled at first, nipped and curled the lip. In my mind, I knew we would learn the commands but never qualify for our Canine Good Citizen (which Shelby easily passed).  But through the course, she gained confidence, learned to ignore the other dogs (except when food or treats was involved) and mastered some higher level commands.
There are days I wonder how Jasper lived in a hoarding situation – she is such a solitary dog. She prefers people to dogs. Toys to being outside. And really values her alone time. Most of the time, I think she is content when I am NOT here.
Last night there was a reunion class and we went; I wanted to practice Jasper's ability to be in loud and crowded and potentially stressful situations. We got there and there were two rambunctious pits. Beautiful dogs but too much energy for Jasper. She took control of the room pretty quickly (she was the only one allowed off leash) and set the tone. As other dogs showed up (a mutt, German Shepard and baby shepard), Jasper still owned that space. When a bunch of chairs  came crashing down from the play, Jasper didn't flinch. She was away from me and at times I was nervous (those dogs were three times her size and one bite would be dangerous), Jasper navigated her way with grace, confidence and ease.
I am SO proud of her! Two years ago I would never have thought we would be here. I assumed I would have a submissive yet loving dog and now I have a confident and loving dog. I would like her to be a bit more affectionate sometimes but she knows when to bring it.
She isn't Shelby … she never will be. But she is Jasper Lily and I love her very much. I love her quirks, her little sounds (less barkies would be great though) and how seeing her ball lights up her eyes like it's the best day ever! We are going to work on jumping and then hopefully to get our CGC. I feel confident with a little work, she WILL pass!
WOW… just wow. What a difference two years can make! From a scared, tail between the legs, hides from everything and everyone, beach hating, and always with the low-grow to a STRONG, proud, confident, tolerates beaches and now just a super loud big dog bark – Jasper Lily has come so, so far! I am so PROUD of her.
And proud of me. I have come so far too … from saying I would never love with my whole heart again to diving deep into this thing called "dog love". The unconditional love Jasper gives daily warms my heart, makes me smile, makes me want to be a better person and love more. Through good and bad, tears and laughter, Jasper rides the wave and does so with a bit of humor, a lot of bad-assery and so much confidence.
She fully un-packed her rescue baggage and set up her roots in my home. We have traveled so much this year, by car, by plane, by foot. She has seen the Oregon coast (a couple times and by far, her favorite coast), Seattle, from nature hikes to waterfalls, the Bay Area meeting new friends. This dog lives the lives many dogs could only dream of. She is spoiled rotten and knows it. She knows her place in my heart – next to Shelby Lynne. She knows her big angel sister and I often catch her looking up at Shelby's remains with tenderness in her eyes.
I do miss the low-growl. We still have it from time to time but mostly it's been replaced with the big dog bark. Which I do not love. She has SO much to say. At home. At the dog park. At daycare apparently. She wants to be heard. Is it from her hoarding days where no one heard her? Where she trembled with fear? Who knows. She is still petrified by loud noises (fireworks, booms) but on occasion will look to me for comfort before bolting under the bed. She still thinks she is a cat as she climbs far into my closet to hide.
She LOVES her tennis ball. To Jasper, it is the best thing – ever! She loves to carry it, chase it, fetch it. I love how she will stealthily bring the ball to me and paw at me until I toss it. She tries to be stealth but I always see her bringing it over … Silly little girl.
She LOVES to chase the crow, the baby one and the big ones, the squirrels, the neighborhood peacock! She will never catch one but the glee in her eyes and the wag of the tail .. she is … HAPPY!
Jasper is HAPPY. I always assumed because of her past she would remain a bit aloof but she's a happy dog now. She loves her family, she loves her life. She loves adventures (even if she hates having to ride in the car to get to them).
She isn't Shelby. She will never be Shelby and that is ok. I have grown in accepting how I can love the two of them within my heart at the same time without guilt. I will never forget Shelby. She gave me the greatest gift in her passing … she gave me Jasper. She gave me purpose. She gave me a reason to get up in the morning. Jasper approaches each day with her morning yodel and stretches. Frog pose is her favorite.
So again … what a difference two years makes. Fresh off the pain of losing Shelby, there was no sparkle in my eyes … and today, my eyes sparkle and shine, my heart feels full, and I wake each day with a snuggle and a cuddle and lots of dog love.
Happy Day, Jasper Lily … here's to many, many more years together!
Did someone say road trip?!?

The Northern CA Tripawds Party was confirmed and Jasper and I were so excited to get the heck out of dodge (aka LA) and drive north for the weekend. We LOVE our time with our Tripawds family … where time stands still and we are surrounded by love and some of the kindest people known to man. And after 2 very long work weeks and nights, this trip could not have come at a better time. For the record, Jasper still hates riding in the car but once it is stopped, ears up and face forward.
We got a bit lost winding our way to the park (thank you GPS and Waze app). So we crossed the Golden Gate Bridge (more on that later). We arrived right on time and were greeted by Shelby! How happy were we to see such a pretty princess. The rest of the crew rolled in and forgive me that I don't remember all the names but it was great to see old friends, meet new friends and catch-up.
After the pawty – Jasper and I drove back across the Golden Gate Bridge and stopped for the obligatory photo opp. It was a gorgeous day in the city. There is so much peace to be found watching the whales in the bay, sitting in the trees, feeling the clean, cool breeze against our face. Pure zen! We grabbed a bite before heading back to the hotel and that serves as a reminder that Jasper needs to work on her 'dining out manners'. Summer is coming and summer means road trips, happy hour and brunch with your sidekick!
Jasper does great in the hotel but Air BNB is a much better choice for us usually. She gets her barkies and growlies in hotels. But thankfully she was mostly too tired to do much about it. It's always funny to watch her sleep, eyes shut, ears up and a low growl. I still find the low growl hilarious … the barking – not so much.
Sunday we made a quick stop to some Redwood trees in a little trail outside of Oakland. Getting lost in the woods (not really) always soothes my soul and helps me "find my zen". Even though I didn't bring great hiking shoes, it was a nice walk before the long drive back to LA.
Arriving back in LA, we felt refreshed, energy renewed, happy, heart full of love … and ready to take on the world. We love our trips up north. We love getting out of the city even if it involves 5- 6 hours in the car through ugly central California!!! But Jasper and I won't stay put for long…  this jet-setting team is headed north next week for a long memorial day weekend. Look out Cannon Beach, OR… Jasper
Lily is coming back and she loves the beach now!
Road trips with dogs are the best!!! She never complains about the music or my singing (loud and off-key). She never asks "are we there yet"? And she's always happy and tail wagging when we arrive! We love our adventures and so … till the next time… #jasperandmadreadventures #mylittlesidekick
OMG do I love this dog! Words I never thought I would utter but I look at Jasper and my heart just overflows with love, affection, trust and joy. You did good, Shelby Lynne, you did real good!
It is so hard to believe that is has almost been two years since I lost the love of my life – my soul mate – my heart dog, Shelby. And Jasper and I are three months shy of celebrating two years of living together. I can look back on old blog posts and see how I had so much trouble opening my heart to love. I liked Jasper, a little more each month, but it was almost 9 months before I loved her. Love didn't come easy for either of us with all our baggage. I think Jasper fell a little quicker than I did but nonetheless … I have loved her for months now but this past month; I don't know. I just look at her and beg and pray for her to live forever. Which I know can't happen. I tell her every night as we cuddle before bed, how much I love her and how special and safe she is. And by cuddle, I mean she goes into her little fort on my bed and all I get is that big booty next to my head.
Jasper finally comes to me to cuddle when she's tired from playing or the dog park. She used to put herself in her bed or to bed, under my bed in her airline carrier which remains one of her favorite places to be. But she's started joining me on the couch to cuddle. She still doesn't run to me when she gets scared from thunder, lightening, fireworks, gunshots … she goes under the bed or into my closet but I know she feels safe there so I don't mind.
She LOVES her playtime. She loves to fetch her tennis ball. EVERY. SINGLE. NIGHT. We are thankful that it is lighter later now so we can try and burn off some energy with a "booty buster" walk.
She still tries to protect her casa more than I would like with her growlies and barkies. And forget having a worker in my house – even hiding under the bed in her carrier, I hear her growling and barking. Sigh.
But this weekend, at the dog park, she walked up to a man and started barking at him. No reason. He hadn't even looked at her. She would walk away and go back to him and bark and bark. I guessed she sensed some bad juju on him. Another guy came into the park with his dog and girlfriend and Jasper did the same thing – bark, bark, bark. Then I noticed – both men had on baseball hats. Perhaps that was it. Another guy came in (full beard) and Jasper went barkzilla on him too. So I am guessing that Jasper just wants to make sure that I never have a man in my life! 🙂 Yet she absolutely ADORES the neighbor and the UPS driver … if I don't take her outside when they are out there, she loses her flipping mind.
Oh Jasper Lily … you are so silly! Shelby had no issues with anyone – ever. She loved every person, regardless of gender or race, unconditionally. It is so weird how different Jasper is even though she is being raised by the same loving mother. I guess it is in her DNA. Like her tail – she hates when you stroke that big bushy tail which is such a shame since it's so pretty. I do wonder, as suggested, if she was bullied and had that tail pulled when she was a street dog or in her hoarding situation.
But I'll end where I started this blog – oh how I love this dog!!! Quirks and all! Jasper and I are headed out on Spring Break in 10 days and I cannot wait for our next adventures. She is a great travel buddy and so adaptable and I couldn't have asked for a better companion. Shelby Lynne's spirit lives on in both of us and I know Shelby is watching from over the bridge giving herself a little pat on the back. And thinking, yeah… I always knew what was best for my mama!
Boy oh boy… Jasper Lily is sure lucky she's such a cute dog because since she turned three, she's become a bigger PITA (pain in the a$$). All week – despite walks before bedtime, Jasper gets restless and tries to jump down off my bed. Since my bed is so high and she's actually rather small, I don't let her do that so I tried putting her down. She goes a-wandering and ends up in the living room (Shelby used to do this too and I didn't mind since Shelby was pretty quiet). Then the light in the courtyard goes on; probably a person coming home, a raccoon, another critter and BARK, BARK, BARK! So I can't let Jasper roam freely. I can't have her in my room since I hear "click, click, click" with her little nails. Eventually she does go under my bed into her airline carrier and I fall back to sleep for a couple hours.
BUT Jasper is a GOOD dog for the most part. She is SO adaptable. She had a great winter break with her mama! We flew up to Seattle for our longest trip yet (almost 11 days). Our flight to Seattle was delayed out of LAX and it was a holiday so there were a ton of kids and lots of other dogs. The dogs were definitely better behaved than the kids but it became a doggy-playground in Terminal 8. Dogs out of their carriers, chew toys all around, running, jumping, playing. I have never flown with 6 dogs on my flight. For anyone afraid or allergic to dogs, this would have been pure hell. Jasper – even though not off leash like the others – did partake in the fun and even stole a stuffed toy (we gave it back). And mid-flight, since Jasper is a service dog, she sat on my lap and another pooch ran down the aisle.
You cannot make this stuff up! So that was a super long travel day for my girl and it was FREEZING when we got to Seattle. And then we had a few straight days of rain and grey skies which made it hard to play outside in nature. But Jasper, as always, took it all in stride. I cannot get over how incredibly adaptable this dog is – despite many random and odd quirks and issues, she really just 'goes with the flow'. She loves my mom and her house and I think just thinks, I am home now.
Jasper and I did get the chance to visit one of my favorite forests that Shelby and I used to go to. Discovery Park is hundreds of acres and trails and a path to the beach. Even though the trees had shed their leaves for the winter, it was still beautiful, quiet, peaceful and serene. Shelby and I used to visit this every weekend and we would run through the trails together. Jasper – being the nature/forest dog that she is – loved it and had a blast. We went back twice. And to the local arboretum. So many squirrels to hunt and stuff to smell. Jasper LOVES nature.
We also drove to see my best friend and her dog, who is 18. He is very frail and I was worried how Jasper would be since she's still quite the puppy. It's like they have some language that they just know. Jasper was gentle around Elvis and Elvis ignored Jasper. It was really hard, though, to see a dog in that condition. It brought back memories of Shelby and how frail she was in the end and how I only ever saw beautiful puppy Shelby … never the older, tired dog that she had become. I am glad that my vision was blurred. Not that I would have loved Shelby any less but it made it better to not see Shelby slipping away … I always saw her as a spirited, spunky girl. Only now can I look back on those photos and see how she had aged … but she always had that sparkle in her eye.
I miss my sweet angel, Shelby, every day and each day, I grow to love Jasper more and more. But Shelby was and will always be my 'child'. My first born. Maybe because Shelby was such the alpha in my life. She took care of me as much as I took care of her.
Jasper and I have a very different bond that I work to understand while trying to preserve and hold onto the love I have for Shelby. I want so much for Jasper to have her own story and live her own life and yet never lose what I had with Shelby. It is so complicated to be a human. How I long to be "more dog" and just accept life at face value.
But what I do know – is that Jasper has very much wormed her way into my broken heart and helped me heal. And I have done the same with her. To see her blossom more and more each day and become more and more confident is one of my greatest joys in life. She is brave. She is strong. She is happy. She smiles. She has unpacked her bags in my home and in my heart. I love our travels and our adventures. She makes life fun again. She makes life worth living.
And we are forever grateful that our angel brought us together and made us work for it. Because nothing this good in life is free and/or easy. And Jasper and I both know it. And again … who rescued who?