Those dawgs know how to party!!! What an amazing weekend … re-connecting with old friends, meeting some new ones and celebrating life, love and joy! We had the BEST time, as we always do. Jasper (well mostly me) loves to get out of the city. I love to escape LA for greener (literally) pastures, cleaner air, nicer people and silence. The meeting with the tripawds group is icing on the cake for sure!
Jasper and I usually make the drive up on Friday and it takes us about 5 – 5 1/2 hours (and it's an ugly drive – straight through farm country). But once we hit our destination, greenery, clean air, blue skies! Perfect! It was actually warm when we arrived which was surprising since I thought we were going to escape the heat.
We did a quick search of a park and did a few miles there. The first thing I noticed was the smells; literally, clean air and trees smells good and different. LA smells like smog – 90% of the time. I rarely am able to take a deep breath of air here without feeling like I am going to cough.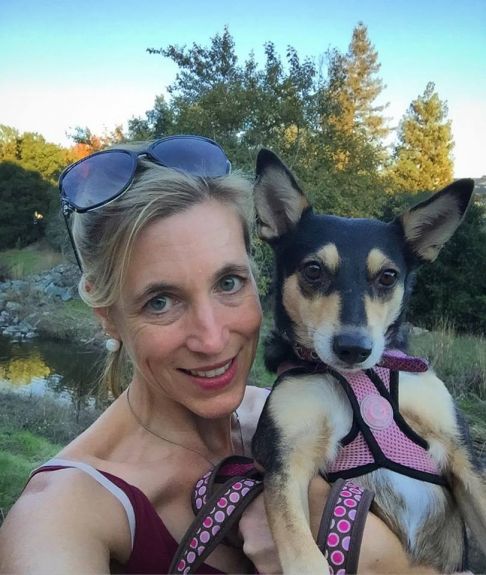 Saturday, Jasper and I get up bright and early to hit the road to meet our friends. We like to arrive a little early to get out some of Jasper's energy. And after our brief little walk, we headed to the party and like usual, we saw Shelby and her pack! And their new puppy, Dusty. OMG … those ears!!!
Then the rest of the crew showed up and it was like no time had passed since last spring. We laughed, we shared stories, Diane gave cookies to the lucky dogs (Jasper over-indulged this time for sure), and we finally got a group shot!
I would say this is the largest gathering I've seen since we've been driving up – it was great to meet Grace and Chance, two new friends to our family. Their owners were pretty special too! 🙂
All in all … a great day with great friends and great dogs!
Then Jasper and I took a detour across the Golden Gate Bridge for a few photo opps before heading back to our hotel.
Sunday was overcast, misty and a bit damp but that didn't stop us (me) from making a trip to a Redwoods Forest before the long drive back to LA. The Redwoods calm me; soothe and nurture the soul. I firmly believe the trees have healing powers. Jasper – tuckered out from the day before – refused to walk about 15 min into the hike (and by hike, I mean easy stroll on a flat trail) so I carried her since I wasn't ready to leave the forest. Don't you know, the second we turned around to go back, she basically sprinted back to the car. Still not ready to leave, I grabbed a notebook and spent some time with my thoughts in the forest.
And then the long soul-crushing (the 5 freeway is super ugly) back to LA. A quick stop for a puppy latte and it was homeward bound. Jasper promptly ate dinner and crashed for the night. She doesn't sleep in the car which I think is part of the problem why by day 3 she is so exhausted. I suspect she will sleep most of today as well.
7 Responses to "Northern CA Tripawds Party November 2016"
Leave a Reply